You may or may not know that I have called my Instagram account 'silent scores'. Among other things on there, I often post 'scores', like the one below.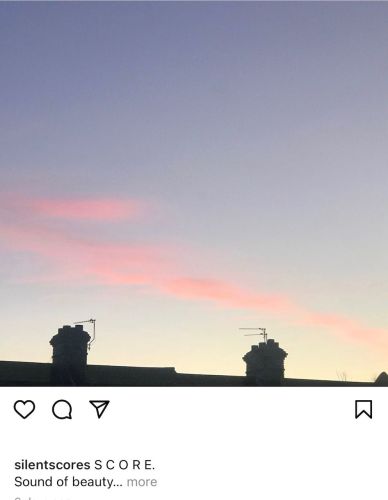 Silent Score Instagram post
But what is a 'silent score'? I started to explore the idea of visual scores - musical scores made using images, texts or graphics – as I started to become interested in what I call 'inner sounds' – sounds we hear as part of our inner world of thoughts, emotions and memories. I was studying towards an MA in sound art, and we were asked to create a score as one of our assignments. Even though I can read music, I did not really have much interest in creating a 'regular' score. I started to research scores which did not use regular notation (like Pauline Oliveros and Cornelius Cardew) and also people who used regular notation, but in 'irregular ways (like John Cage, for example). The idea I came up with was to use objects to create a score.
I had imagined this score to be played by an orchestra (which was specified in the brief of the project) but of course, as I presented at university, I did not have an orchestra (no surprise there!)
Something about lining up the objects I had collected and asking my fellow students and lecturers to imagine the orchestra playing them made me think. Do we hear sounds in our minds? What kind of sounds? How do these 'inner sounds' influence our experience of 'outer sounds'? To explore this further, when I had the chance to exhibit my work in Brighton, I developed the idea of the 'object score' - it lost the idea of an orchestra performing it and became a score for you and your minds sounds – the objects were used to trigger or suggest 'inner' silent sounds within the audience's mind.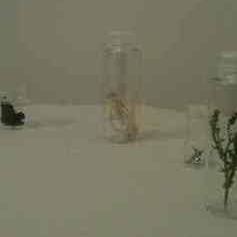 'Score for silence' exhibition, Brighton
The exhibition generated some really interesting conversations with visitors and made me realise two things – the first one was that there was such a thing as 'inner sounds' – enough of the audience members I talked to had heard or experienced them. And, secondly, I realised how little research there was on this topic. That is when I came to the conclusion that I really wanted to focus on 'inner sounds' for my PhD research, which I applied for and started the following year.
So, why 'silent scores'? One of the things I really like about visual scores are that they are very inclusive - Cornelius Cardew's famous visual score 'Treatise' can be thought of alongside his work with improvisation, and the belief that anyone should be encouraged and welcome to play instruments – no matter your 'level' or prior knowledge. 'Treatise', in a way, democratises this reading of a score – no one has 'expertise' in making sense of it, so everyone is sort of at the same level when they try to interpret it. Visual scores also leave a lot of the interpretation to the performer, which is perfect when you are interested in exploring something like the sound in someone's mind!
I always want to create work which is accessible and interesting to anyone – you shouldn't have to be a expert in sound art or musical notation to understand. And I think sound and hearing are fascinating and useful things to consider, so want to introduce them to as many people as I can!
My Instagram 'silent scores' then, is one of several ways I use images, text, graphics and instructions in my work to explore and 'trigger' inner sound experiences. I will finish of with a final visual score for inner sounds...
Think of a sound the image suggests
LISTEN, IN SILENCE